11/7/23 "Sister's of Sherry Competition"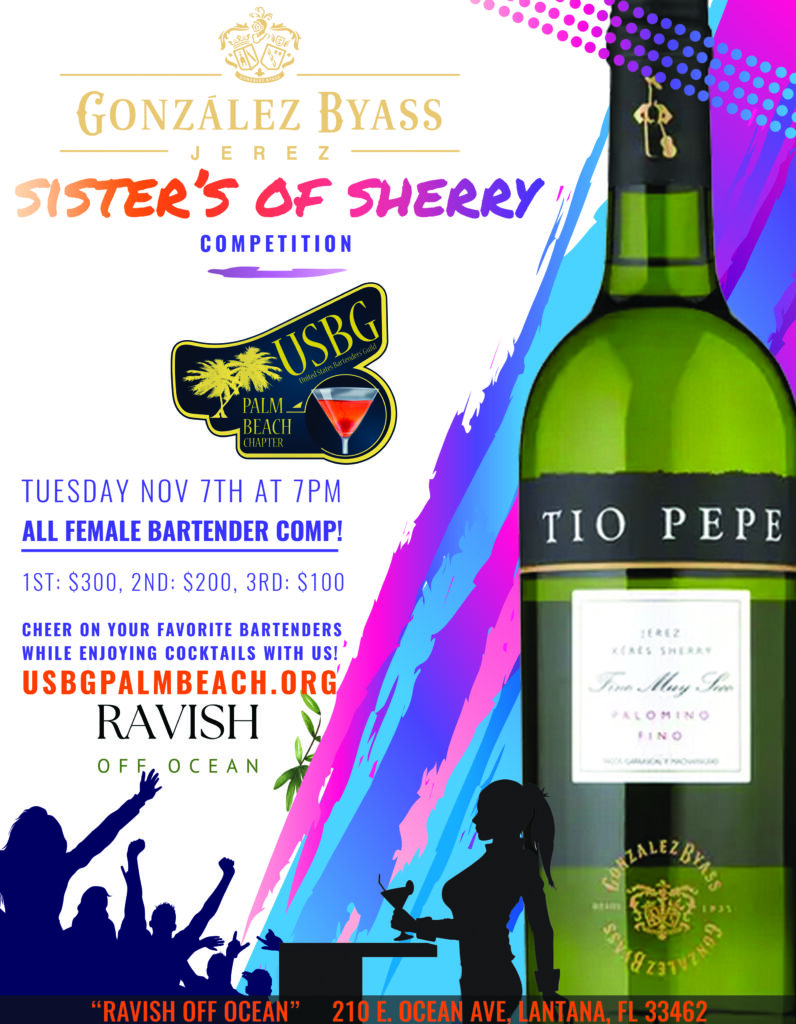 Enjoy a Sherry education and tasting from
Gonzalez Byass
then cheer on your favorite female bartender while enjoying cocktails with some of your industry friends.
OFFICIAL RULES & INFO FOR COMPETITION
Please arrive no later than 6PM to load-in and for a competitor & judges meeting
Each competitor will have a maximum of 7 minutes to present one original sherry cocktail
Prepare 1 drink for each judge (3) and 1 drink to for photographs- total of 4 cocktails. Be prepared with specialty glassware if needed.
Rules and Requirements
Each cocktail must contain at least ½ oz of a Gonzalez Byass Sherry
Sherry Wines: Tio Pepe, Vina AB Amontillado, Alfonso Oloroso, Leonor Palo Cortado, Cristina Medium, Solera 1847 Cream, Nectar PX
ALL base spirits must be GBUSA Brands unless using a spirit category not in the portfolio. Competitors are encouraged to use GBUSA spirits and will receive 5 points for doing so (see score sheets)
Qualifying GBUSA Spirits: Fundador Brandy, Lepanto Brandy de Jerez, Nomad Outland Whisky, The London No 1 Blue Gin, Cantera Verde Gin a la Mexicana, Chinchon Sweet Anise Liqueur
Modifiers such as cordials, liqueurs and bitters outside the GBUSA portfolio are allowed. ie: Chartruese, Orange Curacao, Aperitivos/ Amaros. No fortified wines except GBUSA sherry & vermouth.
When possible use GBUSA wines and spirits as modifiers ie: La Copa Vermouths, Vilarnau Cava
No more than 5 ingredients not including garnish.
All ingredients must be easily accessible. No homemade bitters, shrubs, tinctures or infusions.
You may use homemade simple syrups- no more than 3 ingredients excluding sugar and water.
No batched, combined ingredients or infusions of wines or spirits.
Prize winners must be members of USBG.
We will provide a stock list of standard ingredients. You will be responsible for sourcing any ingredients outside of this list.
Judging/ Scoring Criteria
Each drink will be scored separately for a maximum of 100 points each.
Overall Presentation: 25 Points
Cocktail Appearance: 15 Points
Aroma: 10 Points
Taste: 20 Points
Creativity: 10 Points
Use of Sherry: 15 Points
Use of GBUSA Spirit: 5 Points
Total scores from all judges will be tabulated. The top 3 scores will be awarded prizes. Competitors who surpass the 7-minute time limit will get a 30-point deduction from the Overall Presentation Score.
In the case of a tie for 1st place, a "Shake-Off" challenge will be put into effect to determine the winner. Shake off rules will be presented by the event organizer.
PRIZES (Paid by USBG)
1st Place: $300
2nd Place: $200
3rd Place: $100
People's Choice: USBG Membership or Cash Equivalent ($150)
CONTACT INFORMATION & COMPETITION SIGN UPS:
LaJuane Mack, Eastern Spirits Manager
786-285-4833
LMack@GonzalezByassUSA.com
Lots in store and we can't wait to see you there.
No Comments Yet.