04/16/20 "USBG Virtual Conference"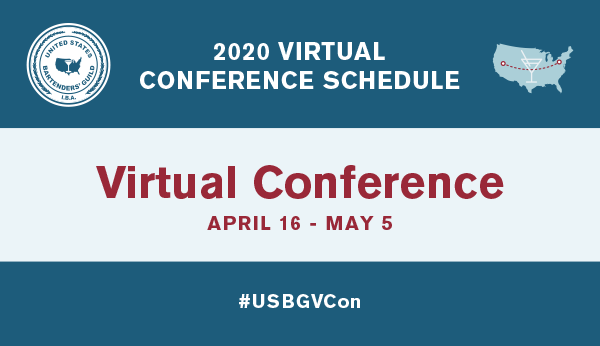 2020 Regional Conference Goes Virtual!
Despite the inability to present the 2020 Regional Conferences, the USBG is still committed to bringing valuable educational content to its members via USBG 2020 Virtual Conference!
Tuesdays and Thursdays
Starting April 16 – May 5!
Read More and Register HERE:
https://www.usbg.org/…/09/03/2020-regional-conferences
UPDATE DATED 4/2/2020: Due to the COVID-19 pandemic, the 2020 Regional Conferences are unfortunately postponed to 2021. Planning for 2021 conferences are currently underway — stay tuned for more details! Despite the inability to present the 2020 Regional Conferences, the USBG is still committed to bringing valuable educational content to our members during this time.
WE ARE HAPPY TO ANNOUNCE…
USBG 2020 Virtual Conference
Tuesdays and Thursdays
April 16 – May 5!
We have united several of the 2020 Regional Conference Presenters to share the presentations that they were looking forward to sharing during this year's conferences. Virtual Conferences provided free of charge.
The 2020 Virtual Conferences have concluded! If you missed any portion of the conference, all seminars can be viewed On Demand. Thank you to all our speakers, presenters, members, volunteers, and supporters for making these conferences happen this year, virtually!
Virtual Conference Emcee


Jessica Pettitt

And thank you to Jessica Pettitt, USBG Consultant, for hosting the USBG 2020 Virtual Conference. Jessica has been a presenter at the USBG National Leadership Conference Retreat, USBG Board and Staff Meetings, and has been contracted to present at local Chapter Meetings. Jessica is a Certified Speaking Professional, has been a New York City stand-up comedian and blends politics, humor, identity, and local flair with big city passion and energy through direct, individualized, and interactive conversations. She graduated from the University of South Carolina with an M.Ed in Higher Education Administration with an emphasis in Crisis Management. She is well published, including multiple DVD and online training courses, curriculum guides, and a book that makes the abstract actionable. To learn more about Jessica Pettitt, visit her website at https://goodenoughnow.com/
SEMINARS
To view all Virtual Conference recordings, CLICK HERE.
To view seminar recordings individually, click on the seminar title name below.

Day 1: THURSDAY, APRIL 16:
Session 1: MOBILITY STRETCHES FOR BARTENDERS presented by Amie Ward – From Carpal Tunnel Syndrome to lower back pain, shoulder tension to foot cramps, the bartender body takes a beating each day. This class will take attendees through basic stretches that should be done before and after shifts, and provide additional exercises that can be executed to relieve body pain affiliated with bartending.
Session 2: UNDERSTANDING ALLERGIES AND LABELING THE COCKTAIL MENU ACCORDINGLY presented by Camper English – We will cover the science (and pseudoscience) of allergies, top allergy-inducing ingredients used at the bar, how to deal with allergens, and how to write a safe and sane menu. This will include nuts, gluten, and dairy, vegan/vegetarian and other special diets, and much more.
**************
Day 2: TUESDAY, APRIL 21:
Session 3: BRIGHT SPOTS moderated by Jayne Portnoy – A collection of leaders, makers, and shakers providing mental, physical, and financial wellness tools in a time of crisis. Please join us for an enlightening panel showcasing how brands and individuals are keeping wellness on the level and helping our bartender community.

Session 4: LIQUOR LAWS: Past, Present, and Possible Future presented Tanner Lenart – How does the USA's liquor history affect our laws today? What are the most pressing current legal issues facing bars? If you don't like the laws in your state, what can you do about them? A humorous take on a potentially dry topic. Anyone hoping to manage or own a bar will benefit from attending!
**************
Day 3: THURSDAY, APRIL 23:
Session 5: INGREDIENTS MATTER: A Guide to Better Drinking presented by Randy Tarlow – Focusing on the importance of choosing quality ingredients when creating cocktails. Examining spirits, liqueurs, syrups, juices, and ice. Why we choose fresh and premium vs artificial products. How these ingredients affect the cocktails we serve our guests. How to justify the expense of better products.
Session 6: PROFESSIONAL COMMUNICATIONS: Turn Small Talk Into a Big Opportunity presented by Megan Finnerty – This interactive session roots us in story and uses exercises and examples to draw out participants and establish affinity beyond surface niceties.
**************
Day 4: TUESDAY, APRIL 28:
Session 7: SERVICE VS. HOSPITALITY presented by Reza Esmaili – The F&B industry has evolved exponentially. Seldom does any training include an understanding of how to manage the guest experience within various environments. This workshop examines the implicit and explicit tools pros can utilize to become more empowered and mindful.
Session 8: WOOD FINISHING SERIES: From Experimental to Innovation presented by Jane Bowie – Join Maker's Mark Director of Innovation on a journey exploring innovation through wood science. This in-depth seminar features discussion surrounding wood composition and influences on aroma of various stages and ages of Maker's Mark Wood Finishing Series Whiskies.
**************
Day 5: THURSDAY, APRIL 30:
Session 9: ENTREPRENEURIALISM IN CRISIS: How to Start a Brand with Little to None of Your Own Money presented by Effie Panagopoulos – Industry Vet Effie Panagopoulos, founder of KLEOS Mastiha Spirit, talks about what it takes to go from idea to reality. Part pragmatic and part motivational, this seminar will serve as a step-by-step guide for people with humble beginnings, trying to make the jump into owning a brand.

Session 10: BECOMING TRAUMA INFORMED: Understanding Trauma and Its Impact on Bartending presented Dr. Ellen Smith – An introduction to the principles of the breakthrough field of epigenetics through the lens of Adverse Childhood Experiences (ACEs). Attendees will learn how ACEs can have widespread implications on their interpersonal relationships, the backbone of the hospitality industry.**************
Day 6 : TUESDAY, MAY 5:
Session 11: THE IMPORTANCE OF ADVOCACY FOR THE DISTILLED SPIRITS INDUSTRY presented by Hannah Cooper – The purpose of this presentation will be to educate attendees on what grassroots advocacy is and why it is so important for every member of our industry, including bartenders, to participate in our country's democratic process and how.
Session 12: PILLAR OF THE COMMUNITY: The American Bar as a Place of Social Change presented by Elizabeth Pearce – The American bar has played a surprising and enduring role in shaping the social and political culture of our country from its earliest colonial days to the present.
Be sure to join the 2020 Regional Conference Community to stay up to date on important announcements. Stay tuned for 2021 Regional Conferences!

​#USBGVCon​​​
No Comments Yet.