08/30/21 USBG Education Day 2021: A day of knowledge for the people, by the people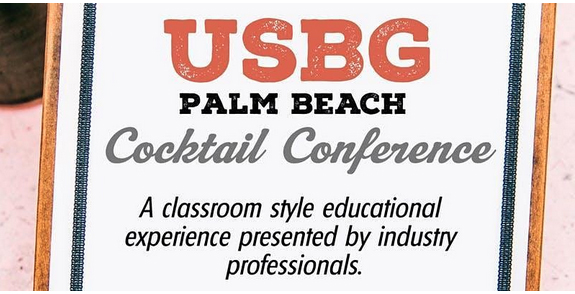 The USBG Palm Beach chapter will be hosting it's second Education Day Conference! Join us for a classroom style educational experience set up in thirty minute hands on seminars with a focus on hospitality, bartending and health practices within our industry. In addition to the seminars, there will be breaks in between to explore tasting tables from our partner brands. Lunch and dinner will be provided for all attendees.
Check out the seminar schedule below!
10:00 AM : Coffee 101 presented by Oceana Coffee
10:45 AM : Open Board Meeting
11:15 AM: Plants Matter presented by Dugan & Dame, Spirited Insiders
12:00 PM: Lunch presented by Pernod Ricard
1:15 PM Stretch + Wellness presented by Deedra Ryder, Alchemy Juice
2:00 PM Functional Flair presented by Rob Husted, Carlos Cardoso, Josh Gates & Rhum JM
3:00 PM Supply + Demand presented by Alex Alfonso + Dianna Greene, Stir Brands
3:45 PM Financial Focus presented by George Davillia, Redemption
4:30 PM Follow Your Passion presented by Ben Potts + Gui Jaroschy, Chinola
5:15 PM Whisk(e)y presented by Bill Binder + Brett Hart, Michter's Whiskey
6:00 PM Dinner at American Craft Ale Works presnted by Brown Forman
The Improv 550 S Rosemary Ave, West Palm Beach, Fl 33401 Please Purchase your tickets using the link below… https://www.eventbrite.com/e/palm-beach-cocktail-conference-tickets-167620119289?fbclid=IwAR2vl3okEcku5NzXo2OMsHU28JpLzLCa19Oa_T1_X_cTzSXeU9kwUqSCp1I
No Comments Yet.