2/28/23 "Cocktails & Karaoke"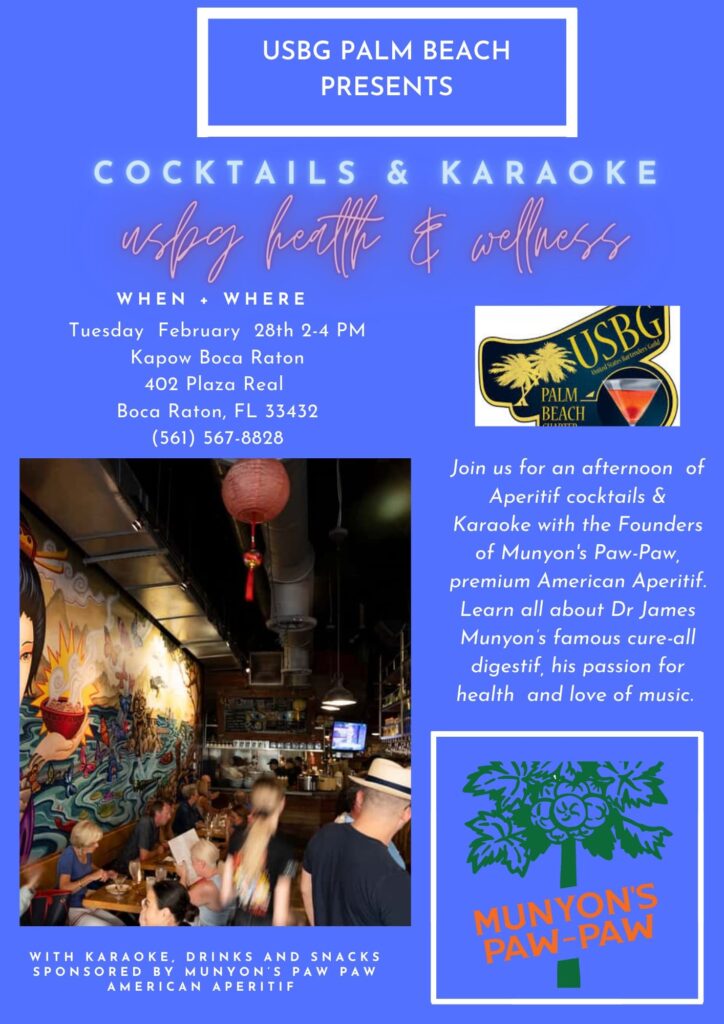 YOU ARE INVITED… Tuesday, February 28th, 2PM at Kapow Boca Raton, 402 Plaza Real, Boca Raton, FL 33432 with USBG Palm Beach.
Cocktails & Karaoke
Tuesday February 28th 2-4pm
Kapow Boca Raton
402 Plaza Real, Boca Raton
Join us for an afternoon of Aperitif Cocktails & Karaoke with the founders of Munyon's Paw Paw premium American Aperitif. Learn all about Dr James Munyon's famous cure-all digestif, his passion for health and love of music.
At the turn of the twentieth century, Dr. James Munyon was more famous than the President of the United States. He was far and away the most prominent figure in the history of patent medicine. The crown jewel of his remedy empire was Munyon's Paw-Paw Elixir. The original formula touted between 17-24% alcohol and was billed as a cure-all digestif, selling millions of bottles worldwide.
Today's formula pays homage to Dr. James Munyon's original creation. Currently, Munyon's Paw-Paw is a premium American Aperitif crafted from 14 botanicals and married with American grain spirits. Munyon's Paw-Paw is 100% natural, with no artificial flavors or colors, and hand-crafted in Florida. The recipe includes many ingredients that were grown on Munyon's private South Florida island in 1903. Additionally, nothing is kept hidden. All 14 ingredients are revealed on the bottle.
Dr. Munyon's most famous salutation was "There is Hope." He conveyed this through his numerous advertisements and the Munyon's Hope Association, which lives on today. The brand continues the tradition, relentlessly promoting a message of Hope in any way possible.
In addition to being a medicine man, Dr. James Munyon was a composer and accomplished tenor. The health benefits of singing are numerous. Not only was the good Doctor healing folks with his remedies, but he was healing his fans with music as well!
Please RSVP using the link below…
https://www.facebook.com/events/1008417233895844
Deadline for available Briteline Tix is Sunday February 26, 2023 and please email Jules Aron with your complete first & last name, Birthday and which Briteline stop you would like to Boca Raton?
You can email Jules Aron at…
Thehealthybartender@gmail.com
Lots in store and we can't wait to see you there.
#usbgpalmbeach #usbgmiami #munyonspawpaw #kapowbocaraton
Kapow Boca Raton, 402 Plaza Real, Boca Raton, FL 33432
No Comments Yet.